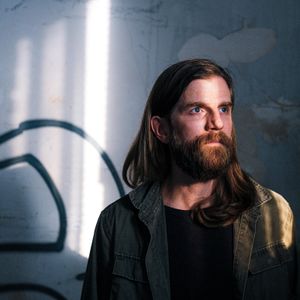 " Pay Me captures the unsettling mood of the times with a defiant performance of raw vocals and growly acoustics ..." 
                                                                                           Jenna Melanson, Canadian Beats  
" ... reminiscent of Johnny Cash and Jake Bugg." 
                                                            Clunk Magazine
Sweet Roger is a surly blues and folk songwriter distilling Americana, grunge, and Country into his own unique sound. With his deft guitar playing, crafty melodies and poignant lyrics, he finds relevance for folksy themes in our modern world. 

His second album, Only You and Me, was born out of one part inspiration and one part necessity. Forced into isolation like so many in recent times, Sweet Roger had the opportunity to revisit timeworn records that hail from the old bayous and honky tonks of the American south, including the likes of Mississippi John Hurt, Elizabeth Cotten, and Lead Belly. Wanting to resurrect the era with a modern twist, Sweet Roger started writing. And with everything shut down, he swapped out the comforts and sophistications of a full studio for a completely solitary, homespun recording. No producer. Just the artist at home. The result: Only You and Me conveys the atmosphere of the lockdown days with raw vocals and gritty acoustics that help us forge ahead. While the twang of the guitars and banjos feel reminiscent, Sweet Roger's sultry, honeyed voice stays current. And like his debut album You'll Always Have Yourself, there's a trace of 90's alternative influences, like Tom Petty marrying Mazzy Starr. Ultimately, there's a perfect balance of nostalgia and distinctiveness that Sweet Roger has grasped once again. 
The very first track Get It Right sets the mood perfectly with its folksy guitar licks and raspy vocals reminding us of R.L. Burnside and Keb Mo. Pay Me follows with its bluesy slide guitar and swaggering beat, inspiring images of rugged cowboys astride their horses in the mountains. Switching gears into a more crooning style, Sweet Roger pulls at our heartstrings with Angel and Warm Chill, which feel reminiscent of Roy Orbison or Chris Isaak. Finally, Come Back transports us to Nirvana's Unplugged album from the 90's with Roger's howling, plaintive voice and unnerving lyrics. Only You and Me may span across different genres but Sweet Roger ties a thread for us with each track, telling a story about our time as well as singing the praises of artists long gone.